The organization that is today Shoco Production, LLC was originally founded in 1964 by C.W. "Bill" Shore in Kilgore, Texas. Bill came to Kilgore from Arkansas during the East Texas Oil Boom in the early 1930s. Bill originally started a water company to deliver water to the camps of oilfield workers. He later went into the dry goods business to supply the growing town and eventually opened a store in downtown Kilgore called Shore Sales. Bill had always had interests in oil and gas deals while he was growing his business, but after he sold the store in 1964, he went into the oil and gas business full time.
From 1964 through 1970, Bill bought several wells and became a successful stripper well operator. In 1970, his son Ron Shore, quit his job as an engineer in California and moved back to East Texas to join Bill in the oil and gas business. Bill and Ron continued to buy and sell oil and gas properties through the 1970s, and in 1978, they formed TEC Well Service to service their own wells. TEC started with one single-derrick workover rig and grew to more than 35 workover rigs with yards in Longview, Texas and Odessa, Texas. In 2018, TEC merged with Momentum Pressure Control and M6 Well Service to form Axis Energy Services.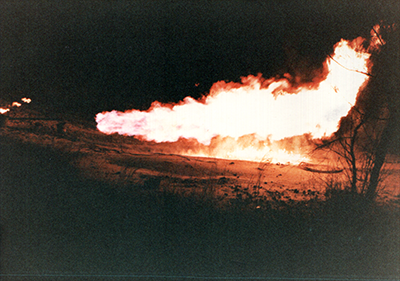 1985
Kenneth Shore, Ron's youngest son, took over operations of Shoco Production in 2003. Kenneth is a graduate of Texas A & M University at College Station, the University of Texas at Austin McCombs Graduate School of Business, and the Dedman School of Law at Southern Methodist University. Kenneth is board certified in oil, gas and mineral law by the Texas Board of Legal Specialization and has served on the board of directors of the Association of Energy Service Companies and the board of the Texas Alliance of Energy Producers.